Xyron 1200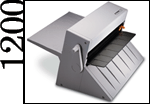 The Xyron 1200 is 12 inches wide giving you enough room for those larger items that need to be magnetized. Included in this package are three additional magnetic cartridges and an inspirational video that will give you new ideas and show you how to use your machine. Once all of your cartridges have been used up simply purchase new ones.
Xyron Machine, video and three cartridges $289.00 $239.00.
Additional Cartridge:
1 for $45.00 $39.00
Just $5.00 shipping and handling for any of these items!